Occasionally the stars align in the animal kingdom where a more perfect match couldn't be written in a Hollywood script.
Just ask PAWS volunteer Mary.
You see, Mr. PAWS, a yellow and white neutered male, had bonded with a long haired blonde male, Simon, at a local pet safe house.
The pair would often be seen chumming around the ranch mousing and raiding food caches.
Even though they fit comfortably in their new home the pair were more accustomed to indoor living.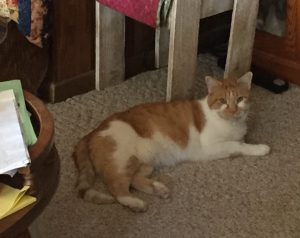 Mr. PAWS had been adopted by a family but had been afflicted with a severe skin rash which he was unable to shake.
Simon was abandoned and shuffled to a tiny apartment to share with five dogs, four cats and three human caretakers.
Life was not easy for either of them.
PAWS intervened in both cases finding a suitable temporary outdoor residence but finding a permanent home for two adult males was no easy task and separating the two wouldn't be ideally what Mary desired.
As fate would have it, on a random kitten adoption day at Petco, Mary coversed with a random gentleman who had happened into a random pet store.
Having recently lost a longtime feline companion, he wasn't certain that his wife was prepared to replace her so soon with a rambunctious kitten so Mary showed him photos of Simon and Cissy, a resident female, and invited him to meet them later.
Roy and wife arrived some days later and it was clear Simon understood this was a golden opportunity. He was on his best behavior. Cissy appeared disinterested but from a distance MR. PAWS' curiosity piqued and he quickly appeared on the scene.
He wasn't about to let Simon leave alone with these strangers so he selflessly situated himself firmly on the lap of his host, determined to investigate.
The story ends without words. As the adage goes, a picture is worth a thousand of them.